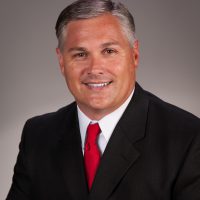 In his role as the Senior Director, Global Customer & Industry Affairs, Brent represents The Hershey Company at U.S. trade associations, trade events, and customer events to help establish and build strong working relationships with both North America and global customers and Industry Leaders.
Brent began his career with Hershey Foods in February 1992, as a sales representative in the Nashville district. He was promoted to District Account Supervisor and then District Manager in Knoxville, Tennessee. Brent has held several leadership positions within The Hershey Company to include Atlanta Convenience District Manager, Southeast Customer Sales Executive – Convenience, and Southeast Area Sales Manager. He accepted the role of Director, National Accounts Convenience in June 2006 where he was responsible for the sales of U.S. strategic convenience store customers.
Brent attended Middle Tennessee State University where he earned a bachelor's of business administration degree in marketing. Brent was elected as the 2007 Southern Association of Wholesale Distributors' "Candy Representative of the Year." He currently serves on several trade associations to include NACS Supplier Board of Directors & Manpower Committee, AWMA Board of Directors, Membership and Marketing Committee, and Wholesale Delivered Snack Committee, NCA Membership Committee, NCA State of the Industry Council, Expo Committee, NCA Health and Wellness Committee. Also he serves on the California Grocers Association Board of Directors.
Brent and his wife and their two daughters currently reside in Hendersonville, Tennessee.
CONFERENCE OPENING GENERAL SESSION
SUNDAY, SEPTEMBER 25, 2016 4:30 PM – 5:30 PM
Why Collaboration Matters and What Makes a Retailer and Supplier Best in Class?
If you believe collaboration leads to better business relationships and improved business results, then this is the session for you!
Review the results of Advantage Group International's 2016 U.S. industry study which includes insights from over 3,000 retail and CPG professionals
Discover what the Top 10 Priorities are for retailers and suppliers
Understand how to become a best in class trading partner
Participate in a panel discussion on why collaboration leads to better business results including real world examples