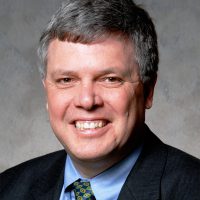 Brian Todd became President of The Food Institute in 2002 and has worked for this organization, founded in 1928, since 1980. He oversees the day to day operations of the premier food industry information service which disseminates industry information ranging from consumer issue to retailer insights and economic concerns through its "FOOD INSTITUTE REPORT", daily "Today In Food", seminars and webinars, reaching over 100,000 industry professionals.
Brian has been interviewed on consumer and food industry trends on a number of television programs, including Fox News, The Today Show, NBC News, the CBS Evening News and the PBS Nightly Business Report, and quoted in a plethora of publications ranging from Fast Company, The Wall Street Journal and New York Times to Supermarket News, Progressive Grocer and Food Processing magazine. He has also been a frequent guest on various radio and television programs discussing food prices, mergers and acquisitions, and other industry issues.
Brian graduated from Ramapo College in Mahwah, N.J. with a bachelor of arts degree in political science and also holds a masters in administrative science from Fairliegh Dickinson University.
WHITEBOARD SESSIONS MONDAY, SEPTEMBER 26, 2016 – 7:00 AM – 8:30 AM The Shifting Share of Stomach
Traditional grocers, mostly supermarkets, are fighting a battle on numerous fronts for that food dollar, competing not only with foodservice outlets but those alternative retailers as well, including warehouse club, drug and dollar stores, online sellers, and even department and home furnishing stores.
Some have met these challenges head on, with many grocery chains adding a plethora of warehouse club size packages to compete on one end of the spectrum and smaller snack packs that consumers might frequently purchase at drug stores on the other.
More recently these groups are even attacking the foodservice competition, with the term "grocerant" becoming part of the food retail vocabulary, Indeed more and more supermarkets are including a sit down restaurant right on their premises. And don't forget the growing prepared food offerings.
But how does all this fighting for share of stomach impact grocers' bottom and top lines and how do vendors deal with a variety of alternative distribution channels.
What are the biggest concerns of retailers over the next five years regarding competition?
What are the traditional retailers' strengths?
Can retailers fight an ongoing battle on several fronts?
Which alternative retailer is the biggest threat?
What information do retailers and vendors stay ahead of the curve?
How can traditional retailers stand out?