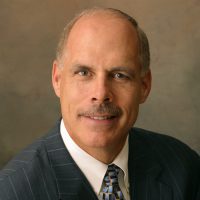 Dave Hirz has served as Smart & Final's President and Chief Executive Officer since January 2012, and previously served as the President and Chief Operating Officer from April 2010 to January 2012. Additionally, Dave has served as a member of our board of directors since January 2012.
Prior to joining Smart & Final in April 2010, Dave was an executive with divisions of The Kroger Company, one of the world's largest supermarket operators, including president of Food4Less, a national warehouse grocery store chain of The Kroger Company, from 1999 to 2004 and from September 2007 to April 2010, and president of the Ralphs Grocery Company, the largest supermarket chain in Southern California, from March 2004 to September 2007.
Previously, he held store and operations management positions with several retail grocery companies. Dave is a graduate of California State University, Fullerton. He brings significant senior leadership and both operational and industry experience to our board of directors, along with an extensive knowledge of the food retail and foodservice industries.
Retailer Spotlight: Smart & Final Stores
Please Note: This session is open to supplier company representatives only.
Smart & Final is a value-oriented food and everyday staples retailer operating 306 grocery and foodservice stores under the Smart & Final, Smart & Final Extra! and Cash & Carry Smart Foodservice banners in California, Oregon, Washington, Arizona, Nevada and Idaho, with an additional 15 stores in northwestern Mexico operated through a joint venture.
In business for 145 years, Smart & Final moved from privately to publicly held with a very successful IPO on September 24, 2014 and in December 2015 it continued its recent expansion by acquiring the leases for 33 Haggen stores in central and southern California. The company is committed to giving back to local communities through employee volunteer opportunities and company donations to local nonprofits.
In this supplier only session, come hear Dave Hirz offer his insights, perspectives and strategies that will be shaping Smart & Final's business for the future.