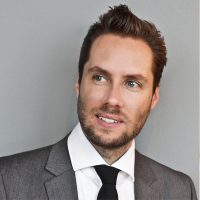 Jeremy Gutsche is "an intellectual can of Red Bull" (Association Week), award-winning author and management consultant to brands, billionaires and CEOs. He is the brains behind "Trendhunter.com": the #1 trend-spotting site in the world. With contagious enthusiasm, Jeremy shows audiences how to use methodical innovation to generate ideas and kick-start creativity during times of change.  
Jeremy Gutsche is the winner of The Cisco Innovation Excellence Award and the BDC's Young Entrepreneur of the Year Award. In bold, interactive keynotes, he delivers a blend of viral new trends, strategic frameworks, and a contagious enthusiasm for innovation. He possesses a unique perspective on innovation in the business context, and draws on his background in both corporate strategy and Web 2.0 to provide you with inspiration and tools to generate ideas, stimulate creativity and unlock potential.
As one of Capital One's youngest business directors at 28, Jeremy led his team to grow a billion dollar portfolio of market leading products. And as a management consultant for the Monitor Group, he advised Fortune 50 clients on top-level strategy. His first business book, "Exploiting Chaos", won an Axiom Business Book Award, was named an Inc. Best Book for Business Owners, and was a #1 bestseller on the 800 CEO Read list. His second book, "Better and Faster", was a New York Times bestseller, #1 on Amazon and a CEO Read "Select" book for CEOs, entrepreneurs, and managers. He holds a MBA from Queen's, is a CFA, and studied innovation at Stanford's Graduate School of Business.
General Session
MONDAY, SEPTEMBER 26, 2016 – 8:30 AM – 10:30 AM
Better & Faster: The Proven Path to Unstoppable Ideas
In this talk, Jeremy Gutsche will teach you a proven path to unstoppable ideas. With tactics he's developed by studying tens of thousands of ideas, and frameworks he's tested while helping to solve some of the world's toughest innovation problems, Jeremy will teach you to look for the patterns of opportunity right in front of you.
How do we overcome psychological traps that block our success? Based on his book "Better and Faster: The Proven Path to Unstoppable Ideas", Jeremy connects human evolution with our ability to adapt to rapid change, showing you why smart people miss great ideas and what to do about it. Jeremy's highly engaging, humorous, and educational lessons are drawn from the untold tales of reclusive billionaires, and ordinary people who achieved the unthinkable by simply seeing the opportunities that others overlooked. He'll teach you to see patterns and clues that will lead you to be a better investor, better innovator, better creator, and better at adapting. You will be better and faster.