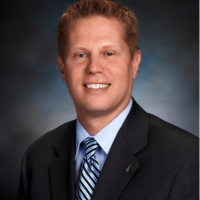 Scott Salmon has been Senior Vice President, Kellogg U.S. Sales since October 2013. He was recently given incremental responsibility, asked to lead the largest U.S. Sales team at Kellogg – Snacks – in recognition of his strengths and record of success at Kellogg. In addition to his new role, Scott continues to be the Kellogg face to the customer as Chief Customer Officer for the U.S. business. In his new capacity, Scott will focus on growth within Sales, sharpening Kellogg's competitive edge in DSD with the next evolution of customer plans.
Scott joined Kellogg in 1992 as a Retail Sales Representative in the Dallas Zone. Since then, he has held a variety of Sales leadership roles, many of which have involved leading strategic initiatives focused on talent, leadership as well as customer and channel development. He has also been a member of the Kellogg North America Leadership Team since May 2013.
In recognition of his commitment to diversity and inclusion, earlier this year Scott was appointed Executive Sponsor of Kellogg African American Resource Group – or KAARG – an employee resource group focused on providing professional development opportunities to all employees.
Outside of the office, Scott is a regional board member of the American Heart Association – or AHA – and founded the Arkansas Chapter of Men Go Red as well as co-chaired Women Go Red. He is also a member of the Missouri State University Executive Advisory Board of the David Glass College of Business.
Scott received a Bachelor of Science degree in Sales and Marketing from Missouri State University, Springfield, Missouri.
Scott and his wife, Allison, reside in Wheaton, Illinois with their daughter Sydney.
CONFERENCE OPENING GENERAL SESSION
SUNDAY, SEPTEMBER 25, 2016 4:30 PM – 5:30 PM
Why Collaboration Matters and What Makes a Retailer and Supplier Best in Class?
If you believe collaboration leads to better business relationships and improved business results, then this is the session for you!
Review the results of Advantage Group International's 2016 U.S. industry study which includes insights from over 3,000 retail and CPG professionals
Discover what the Top 10 Priorities are for retailers and suppliers
Understand how to become a best in class trading partner
Participate in a panel discussion on why collaboration leads to better business results including real world examples